Take the guitar model of your choice and turn it into an awesome over the shoulder bag with this easy to follow tutorial.
Tutorial Written by: Mewyam
Visit the author's website here:
Bored and Crafty
The author provides this tutorial for personal use. Please do not use it to create goods for sale.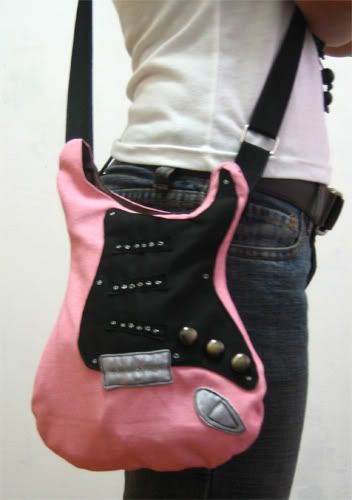 The PSP case: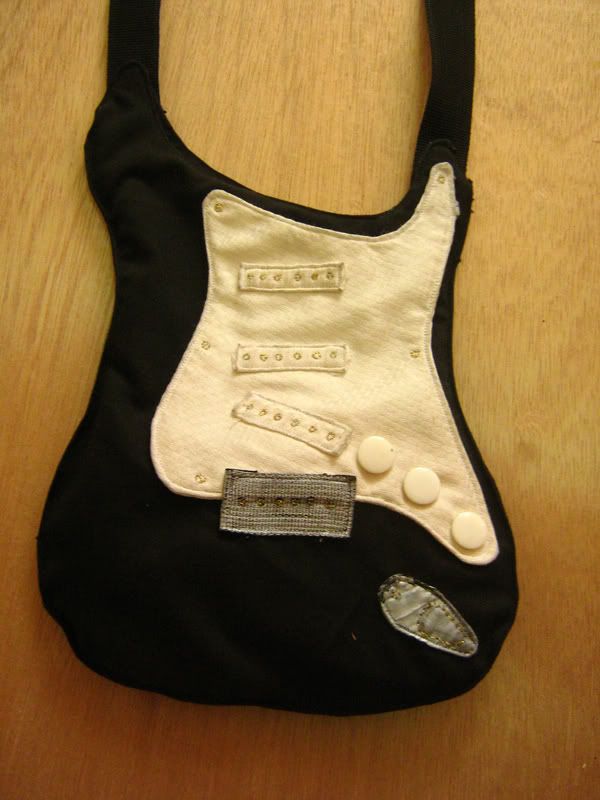 That would be a Fender Stratocaster . screws are handsewn with gold threads. knobs are buttons. there are so many things that i would change about this bag. i will make a gibson Les Paul for me and it will be better.
Tutorial
1. Print a guitar image onto an A4 paper. Trace your image; 2 for the body, 2 for lining, 2 for your scratchplate.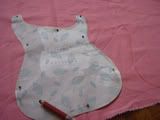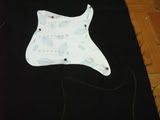 2. Out of silver-y fabric, cut and sew rectangle and tear-shaped pieces. The rectangle would be your whammy bar while the tear-shaped piece would serve as your input jack.
3. Take your scratchplate pieces, right sides together, and sew all the way around. Leave a 2-inch gap for turning inside out.
4. After this, clip all the way around so that the curves would be better-defined. Turn inside out and sew on top of the front body of your bag. Use the image you printed for the position of the scratchplate.
5. Now sew the whammy bar and the input jack. Take three strips of bias tape (or any fabric that matches the color of your scratchplate). Their length should be the same as your whammy bar. These strips would be your single-coil pickups. Position them according to the image and sew. Mark the parts of the scratchplate where the screws are. Embroider these with silver thread. Handsew circles on the strips you just added. Remember,these circles should be aligned.
6. Mark the volume and tone controls. Sew on buttons for these.
7. Now position your front and back pieces, right sides together. Sew from the highest points of the curved tops on both sides. Do the same to the lining, leaving a gap at the bottom. (If you want, you can add a pocket or two before doing this.)
8. Turn the outer body inside out and place it inside the lining. Sew the opening of your bag.
9. Pull out your outer body through the gap at the bottom of the lining.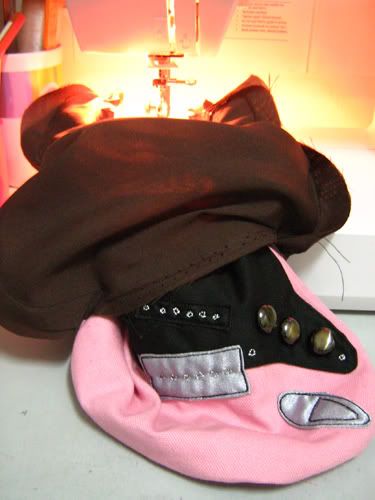 10. Your bag is starting to take shape. :) Topstitch the top part.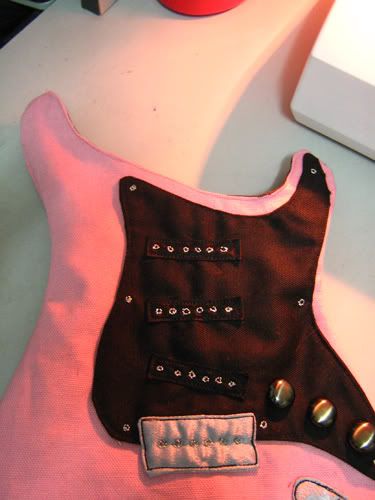 11. Attach one end of the strap with the rectangular ring for the adjuster. Sew the other end. Do not forget to sew the gap in your lining shut.
12. And you're done!