These handmade hairfalls are just amazing. They take easy to find inexpensive costume wigs and turn them into a cascade of lovely multicolored ringlets.
Tutorial Written by: CatLadySarah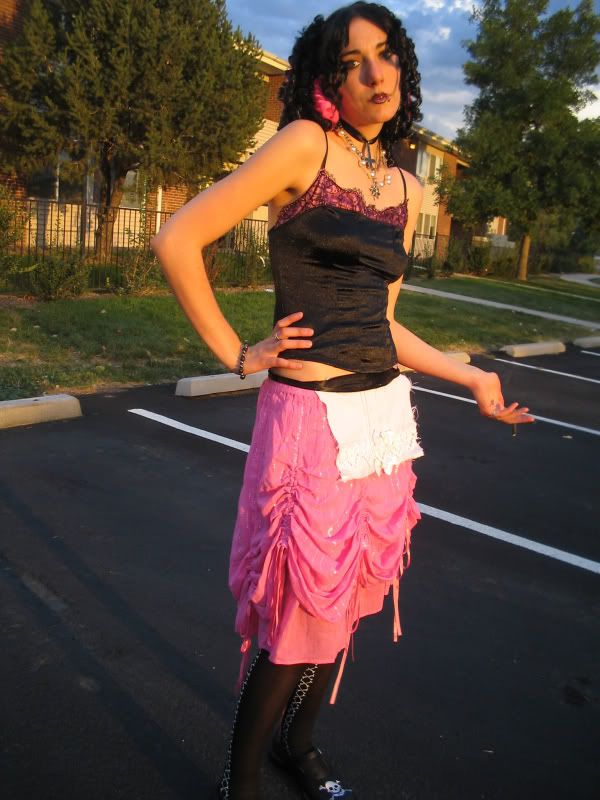 Ingredients:
1 waist-length Wal-Mart Halloween wig
some loose jumbo braid Kanekalon (like this)
foam hair rollers (medium size)
pot of boiling water
old t-shirt
french-style barrette clips (4)
hot glue
needle & thread
First, I skinned the wig by seam-ripping the tracks of hair away from the base:
Then, I cut the hair into inch-wide strips, and wrapped them around foam rollers. For the loose Kanekalon, I just wrapped about an inch-thick strip of hair around rollers. I don't have a freakin' clue what happened to my picture of this, but if you've ever put your hair up for spiral curls, you can imagine the idea. Just start by getting the end damp and sticking it down on the curler, then wrapping around and around while keeping the hair relatively flat and even.
After this, I dropped the rollers into boiling water for about thirty seconds, and scooped them out with a slotted spoon. After letting them drain and cool off in a colander, I laid them all out on a towel to dry thoroughly.
Once unrolled, they looked like this:
They weren't terribly even, but that didn't matter much in the end.
Next, I cut out round-ish pieces of t-shirt fabric, about five inches in diameter. To these, I sewed rows of curls, running a row of small, straight stitches through the middles: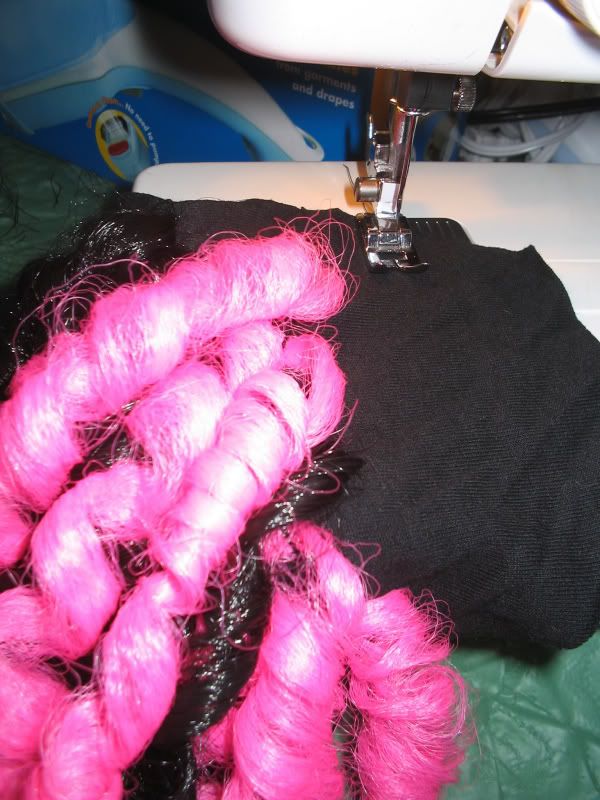 When that was done, I hemmed the borders of the shirt material, pulling the excess fabric in so that you wouldn't see it under the curls.
Next, I glued clips to the back, one for the top and one for the bottom:
This way, the wearer puts her (his?) hair up in two buns on the top-sides of the head, and the fabric part of the falls acts as a bun-cover, with a clip securing the fall to the scalp above and below.
Back: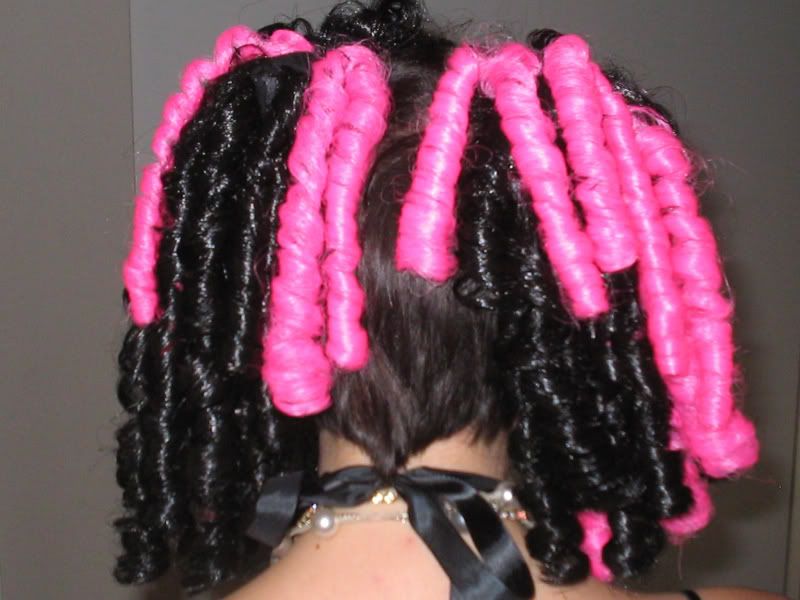 (Yeah, I needed to clean up my undershave in that picture...)
Ta-da! Floofy custom dolly hair for less than ten bucks. Using all Kanekalon, it would have been even cheaper than that. I had a wig around, though, so it was more cost-effective and efficient this way.